Tag: minimalist wordpress theme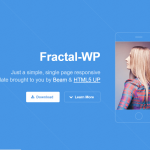 Beam Fractal-WP is a responsive, simple, minimalist one page child theme for Beam. It's based on Fractal (HTML template).
What's New in Beam 0.9
Better Featured image positioning
Featured image now appears above Post Title.
Concatenation and Minification
JS is now Concatenated and minified into one file, beam-scripts.min.js. Find unminified version in /js.
Page Load Speed